LEGENDARY INVENTIONS FROM IIT ALUMNI
Martin Cooper (From Wikipedia, the free encyclopedia)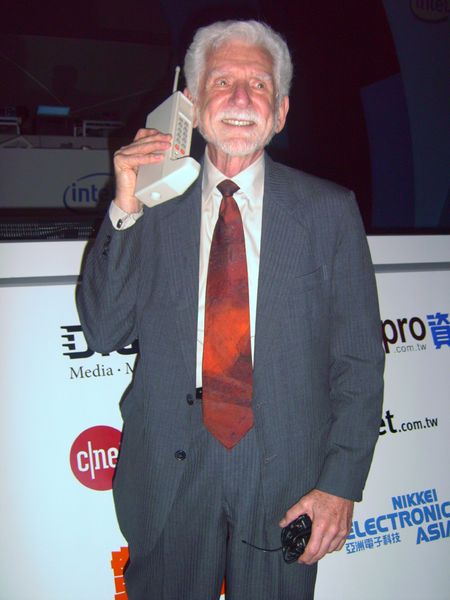 Martin Cooper (born December 26, 1926 in Chicago) is considered the father of the cell phone (as distinct from the car phone). Cooper is the CEO and founder of ArrayComm, a company that works on researching smart antenna technology and improving wireless networks, and was the Corporate Director of Research and Development for Motorola. He received his degree in electrical engineering from the Illinois Institute of Technology in 1950 and received his master's degree from the same institution in 1957.
Cooper is the inventor named on US patent 3,906,166, Radio telephone system. Cooper is considered the inventor of the first portable handset and the first person to make a call on a portable cell phone on April 3, 1973, to the bewilderment of passers-by in a road of New York. That first call, placed to his rival Joel Engel, Bell Labs' head of research, caused a fundamental technology and communications market shift toward the person and away from the place. It was the incarnation of his vision for personal wireless communications, distinct from cellular car phones. Cooper later revealed that watching Captain Kirk talking in his communicator on the tv-show Star Trek inspired him to research the mobile phone. [citation needed]
Cooper's Law is the semantically incorrect name used for his observation that the number of radio frequency conversations which can be concurrently conducted in a given area has doubled every 30 months since Marconi's spark gap transmitter.
Cooper grew up in Chicago and earned a degree in electrical engineering at the Illinois Institute of Technology. After four years in the navy serving on destroyers and a submarine, he worked for a year at a telecommunications company. Hired by Motorola in 1954, he worked on developing portable products, including the first portable handheld police radios, made for the Chicago police department in 1967. He then led Motorola's cellular research.
In 2003, Cooper received the Wharton Infosys Business Transformation Award for his technological innovations in the communication field. Cooper is also a member of Mensa.
Marvin Camras (From Wikipedia, the free encyclopedia)
Marvin Camras(January 1, 1916 - June 23, 1995) was an important pioneer in the field of magnetic recording. He developed his first basic wire recorder in the 1930s. His early recorders were vital in the misinformation of World War II. He also developed multi-track tape recording, magnetic sound for motion pictures, and the video tape recorder.
Camras was a long time faculty member at Illinois Institute of Technology (IIT or Illinois Tech) and researcher at IIT Research Institute in Chicago, Illinois, USA. He received a Bachelor of Science in 1940 from Armour Institute of Technology (which in 1940 merged with Lewis Institute and became Illinois Institute of Technology) and a Master of Science in 1942 from the same institution. In 1968, IIT awarded him an honorary doctorate.
Grote Reber (From Wikipedia, the free encyclopedia)
Grote Reber (December 22, 1911 ? December 20, 2002) was one of the pioneers of radio astronomy. He was instrumental in repeating Karl Jansky's pioneering but somewhat simple work, and conducted the first sky survey in the radio frequencies.
Reber was born and raised in Wheaton, Illinois, a suburb of Chicago, and graduated from Armour Institute of Technology (later Illinois Institute of Technology) in 1933 with a degree in radio engineering. He was an amateur radio operator, and worked for various radio manufacturers in Chicago from 1933 to 1947. When he learned of Jansky's work in 1933, he decided this was the field he wanted to work in, and applied to Bell Labs where Jansky was now working. However this was during the height of the Great Depression and there were no jobs available.
Instead Reber decided to build his own radio telescope in his back yard in Wheaton. His design was considerably more advanced than Jansky's, consisting of a parabolic sheet metal mirror 9 meters in diameter, focusing to a radio receiver 8 meters above the mirror. The entire assembly was mounted on a tilting stand allowing it to be pointed in various directions, although not turned. The telescope was completed in 1937.
Reber's first receiver operated at 3300 MHz and failed to detect signals from outer space, as did his second, operating at 900 MHz. Finally his third attempt at 160 MHz was successful in 1938, confirming Jansky's discovery. Reber turned his attention to making a radio-frequency sky map, which he completed in 1941 and extended in 1943. He published a considerable body of work during this era, and was the initiator of the "explosion" of radio astronomy in the immediate post-WWII era.
During this time he uncovered a mystery that was not explained until the 1950s. The standard theory of radio emissions from space was that they were due to black-body radiation, light (of which radio is a non-visible form) that is given off by all hot bodies. Using this theory one would expect that there would be considerably more high-energy light than low-energy due to the presence of stars and other hot bodies. However Reber demonstrated that the reverse was true, and that there was a considerable amount of low-energy radio signal. It was not until the 1950s that synchrotron radiation was offered as an explanation for these measurements.
Reber later donated his telescope to the NRAO in Green Bank, West Virginia, and helped supervise its re-construction at that site. The telescope was then mounted on a turntable, allowing it to be pointed in any direction. Reber helped with a reconstruction of Jansky's original telescope as well. In all Reber spent four years working for the National Bureau of Standards.
In the 1950s he wanted to return to active studies but much of the field was already filled with very large and expensive instruments. Instead he turned to a field that was being largely ignored, that of very low-frequency radio signals. However most low-frequency signals are filtered out by the Earth's atmosphere, so Reber moved to Tasmania where the low levels of man-made radio noise would permit the reception of the faint signals from outer space.
First Radio Telescope - Wheaton, IL 1937